Using Lived Experience to Help Others in Recovery Find Hope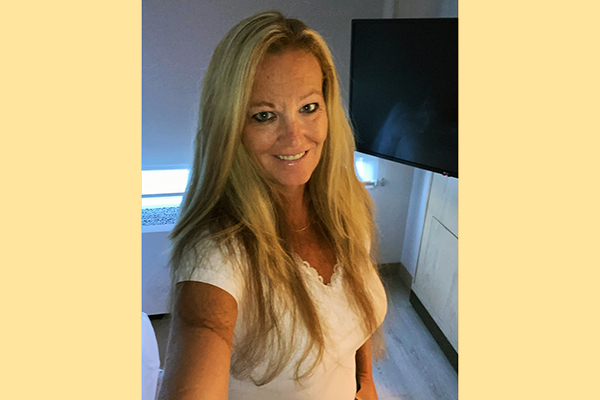 Nicole Criss, Ph.D, a senior project coordinator at MCD Global Health's Rural Behavioral Health Workforce Center.
Content warning: This story explores aspects of addiction and mental health and contains topics on child abuse, self-harm, substance use, and suicide. Please read with care.
In the U.S., more than 20 million people were diagnosed with substance use disorder (SUD) and only 10.3% of people with SUD received treatment for the chronic condition in 2019. From April 2022 to April 2023, more than 111,000 people died from a drug overdose, according to the Centers for Disease Control and Prevention (CDC). Drug-involved overdose deaths tripled from 1999 to 2019.
SUDs happen when the recurrent use of alcohol and/or drugs causes clinically significant impairment, including health problems, disability, and failure to meet responsibilities at work, school, or home, according to the Substance Abuse and Mental Health Services Administration.
With billions of dollars invested in addressing this ongoing public health crisis, such statistics are useful for measuring the challenge and results, but do not tell the full story of this complex issue; all of the numbers represent human beings.
Nicole Criss, Ph.D., a senior project coordinator at MCD Global Health's Rural Behavioral Health Workforce Center (RBHWC), advocates for others who are struggling on their roads to recovery.
By sharing her story, Nicole hopes to assist others who are going through similar situations. "I went through hell and lived through it, and I want to use my voice to help someone else," she explained.
Growing up in Baltimore, Maryland, Nicole lived through several adverse childhood experiences, also known as ACEs.
"It's important to note that I experienced a lot of abuse as a child, a lot of trauma," she said. "I was molested. I was raped. I was physically beat. I tried to commit suicide. Trauma plays a huge role in SUD; it's important to mention this."
Having lived through such trauma at a young age, Nicole found an escape through alcohol at around age 12, which stayed with her for many decades. Her mother struggled with alcoholism as well as her brother, who was recently released from prison for charges related to his substance abuse.
Nicole went on to get married, raise two sons, own a house, and have a career as the business operations manager for a physician practice in Baltimore. After divorcing from her husband, she eventually married her second husband, who was dealing with his own challenges with pills and alcohol. Nicole was also suffering from a herniated disk in her back, and the pain was so great that she underwent surgery.
"It was the first time in my life I couldn't take care of myself," she said. "It was really scary because I never relied on anybody throughout my life."
She described the pain as "excruciating" and was prescribed pain medication and benzodiazepines ('benzos') for her anxiety. Despite the pain, she pushed herself to work and take care of her family.
"They didn't know the damage that those pain pills could do at the time. I specifically remember asking [my doctor] once, 'Am I going to get addicted to these? Am I gonna go through withdrawal?' because addiction runs in my family. And he was like, 'No, the withdrawal is just like a minor cold,' and I know that he was telling me what he believed, so I kept taking it because the pain was horrible."
This continued for two years, and while her pain made her long commute challenging, Nicole eventually lost her job when her position was phased out. This caused major life changes for her and her entire family: she uprooted her children and moved to another area, enrolling them in different schools.
After a second surgery for her back and continued prescriptions for pain and anxiety, she soon realized her growing dependence on the medications.
"I tried to stop several times ... I stopped using pain pills, and I was uncomfortable, but I could quit them. I could not quit the benzos. I didn't know how dangerous they were," she described. "I tried really hard to stop … I thought I was losing my mind."
Feeling as though she had hit rock bottom, her anxiety and suicidal thoughts began to take over. Questioning whether her children would be better off without her, Nicole recalls the day when a thought crossed her mind — how easy it would be to drive her car off the road and end it all.
Instead, Nicole made the decision to seek help. She went to a local emergency room and met with a social worker. She found her way to an inpatient facility away from home, where she remained for 12 days.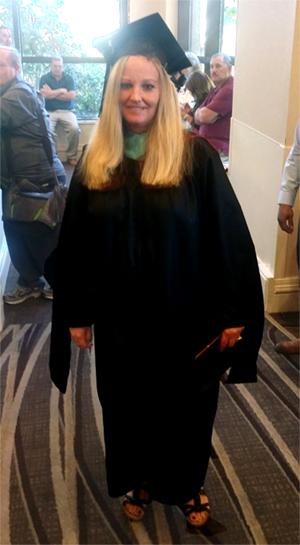 Nicole after graduating with her master's degree from Capella University where the ceremony was held in Orland, Florida, in 2020.
Thus, her road to recovery began in 2014. "That was the first time I ever went in for treatment, and, as of today, it has been the only time."
After leaving the facility, she decided to divorce her husband and begin a new, healthier treatment plan for her pain, as well as work toward her goal of attaining a college degree. And in 2022, she earned a doctorate degree in human services from Capella University. "This is something I like to share with people because if I can do it, then anybody can do it, and you don't have to limit yourself."
Nicole eventually moved away from Baltimore, and started her job at MCD's RBHWC, an initiative funded by a U.S. Health Resources and Service Administration (HRSA) grant to increase and sustain Maine's behavioral health workforce.
Having a job, or a sense of purpose, can be life-changing for those in recovery, "but so often, people who have experienced SUD may feel that companies don't want them, they don't have a lot of hope, and sometimes have a criminal background so they don't feel good enough," Nicole said. "By telling someone like that that they are needed in the behavioral health workforce to help others, and getting them to understand that their lived experience has so much value can be difficult."
Nicole is using her voice and own experience to reduce the stigma associated with hiring people in recovery and helping those in recovery find a career.
"Grassroots movements are working hard to provide education and address the stigma related to SUD, but until we start investing more in recovery support, nothing is going to change," she said.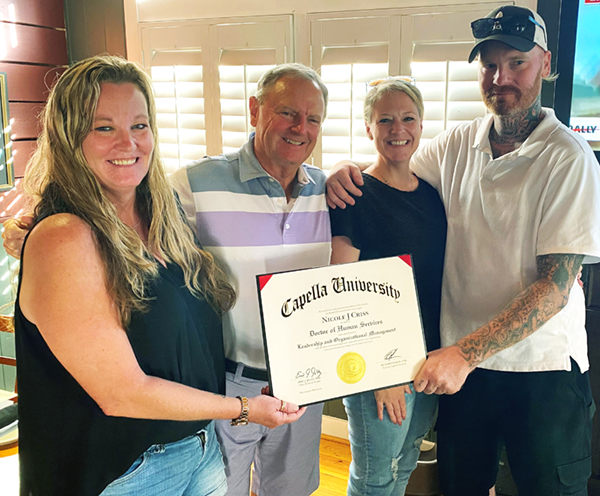 Nicole celebrating with some family members after one of her graduations. From left to right: Nicole, her dad, Rick, her brother's girlfriend, Melissa, and her brother, Joe.
In her role, Nicole trains people to become certified peer support specialists and helps them find jobs in the field. Nicole has found that people in this role often find their jobs rewarding, fulfilling, and a powerful way to give back.
"Over and over again, we find that it is the people who are themselves in recovery, or have personal experiences, who have the most to offer people in their recovery journeys," said Catherine Sanders, Nicole's manager and program director of the RBHWC at MCD. "This makes our job at the RBHWC easy: we simply provide the tools or facilitate the connections they need to take the next steps in their careers. The work is so rewarding because our participants teach us about resilience, love, and hope ... they live it every day, and then they bring it to work and change people's lives."
Resources
If you are experiencing an emergency, call 911 or your local emergency line.
There is growing support from employers to hire and support employees in recovery. Here are two resources that can help guide you in making your company recovery friendly:
If you, or anyone you know, is struggling with addiction and/or experiencing abuse, domestic violence, suicidal thoughts, and/or sexual assault, please contact one of the following free resources below:
The National Suicide Prevention Hotline: Call or text 988
Crisis Text Line: Text 'Hello' to 741741
Childhelp National Child Abuse Hotline: Call or text 1-800-422-4453
YouthLine, a safe space for children and adults ages 11 to 21: Text 'teen2teen' to 839863 or call 1-877-968-8491
Substance Abuse and Mental Health Services Administration hotline for those struggling with addiction or concerned about a loved one's alcohol or drug abuse: 1-800-662-4357
2023
U.S.
Maine
RBHWC
Substance use disorder
mental health