Healthy Lincoln County Receives Grant to Improve Collaboration and Food Security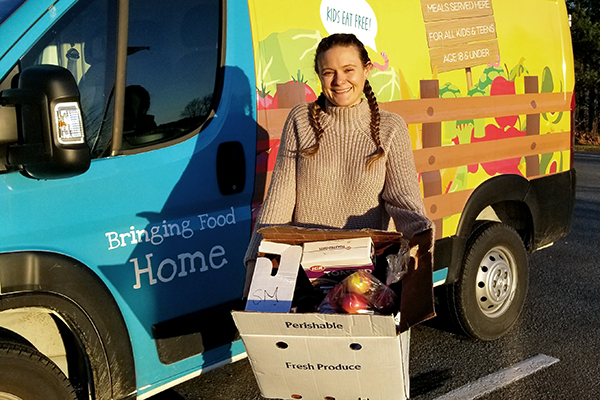 Jess Breithaupt, a MCD and HLC staff member, holds a box of fresh produce that was distributed to the Lincon County, Maine, community.
MCD's Healthy Lincoln County (HLC), a public health program in Lincoln County, Maine, that focuses on substance use prevention, food insecurity, and nutrition education, has been awarded a grant of $25,000 from the John T. Gorman Foundation, a private foundation that aims to advance and invest in innovative ideas and opportunities that improve the lives of Maine's most vulnerable populations. This is MCD's first award from the John T. Gorman Foundation.
The grant will be used to support a network of local food security programs, creating more effective systems to end hunger in the Lincoln County community. This will be done by promoting resources through local media, online, and public-access television as well as expanding the food security hotline to a texting service to broaden the reach of HLC and its partners.
According to Feeding America, 12% of Lincoln County residents are considered food insecure, and the child food insecurity rate has remained at 20% for the past two years. The challenge in meeting healthy food needs in the community is significant, requiring bold strategies, direct-service programs, community collaboration, and county-wide coordination.
HLC and its partners plan to increase the capacity of food security efforts in Lincoln County by fostering support, advocacy, coordination, and transparency through the work of HLC's Food Security Community Connector role. This role works with all staff who work on food security at HLC, identifying areas of collaboration and support among the programs.
The community connector has already created a work flow for obtaining and distributing food through a partnership with the Twin Villages Foodbank Farm and Hub, developed a volunteer database, and launched processes that ensure food pantry partners are notified when new donations or food security infrastructure opportunities surface.
"This generous support from the John T. Gorman Foundation gives us an opportunity to expand our reach and visibility within the Lincoln County food system," Kelsey Robinson, director of HLC, said. "Word-of-mouth is a powerful tool, but we are looking forward to taking part in more formal advertising to spread the word about the Food Security Community Connector role, the various food resources throughout the county, and promoting the Food Hotline as a means to connect more food to more community members."
HLC expects to see an increase in volunteer utilization, pounds of food obtained, number of partners and referrals, and overall knowledge of resources after implementing strategies thanks to this award.
About Healthy Lincoln County
Healthy Lincoln County (HLC) is a community health coalition, active in the community for more than 20 years. HLC operates with support from local residents, private foundations, and state contracts. HLC works with community partners to improve the health and well-being of all Lincoln County residents, implementing data-supported strategies including substance use prevention, food security, and nutrition education, particularly for our most vulnerable populations. The team uses data and community input to identify disparities, seeking health equity for all.
Since 2013, Healthy Lincoln County (HLC) has benefitted from infrastructure support, and thus been a project under MCD, a global health nonprofit and public health institute with headquarters in Hallowell, Maine.