Upgrading Malaria Case Management: A Milestone in Equatorial Guinea's National Health Development Plan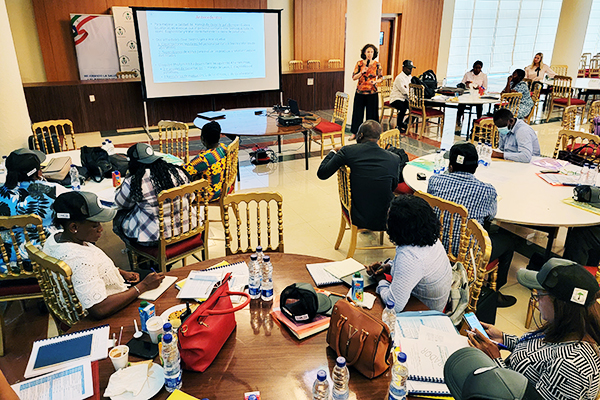 Sandra Incardona, MCD's senior technical lead and head of the Technical Unit, presents and leads discussions during the validation of the national guidelines on Bioko Island, Equatorial Guinea.
MCD Global Health's Bioko Island Malaria Elimination Project (BIMEP) team successfully updated national guidelines and developed training manuals that provide protocols for malaria diagnosis, treatment, patient monitoring, and prevention in Equatorial Guinea.
These updated guidelines are more than just a guide — they aim to strengthen patient care. By following best practices, health care providers will be better equipped to quickly and accurately diagnose malaria, crucial for effective treatment and prevention. Early and accurate diagnosis can reduce the severity of the disease, limit its spread, and, ultimately, save lives. The initiative is accompanied by a well-laid-out plan for nationwide implementation.
In 2019, Equatorial Guinea's National Therapeutic Guide was realigned with revised WHO recommendations. Following this, a comprehensive national policy review was conducted, with the goal of ensuring that the National Therapeutic Guide served as the backbone for accurately and timely diagnosing and appropriately treating malaria.
MCD technical experts began this review process of all guidelines and strategies more than two years ago. With support from Equatorial Guinea's Ministry of Health and Social Welfare (MoHSW) and its partners, the WHO, UNICEF, and Instituto de Salud Carlos Tercero, the BIMEP developed high-standard training manuals for clinical management and diagnosis of malaria, outreach training and supportive supervision (OTSS) checklists, state-of-the-art training materials, and job aids.
Subsequently, Equatorial Guinea's National Malaria Control Program (NMCP), through the BIMEP, undertook a national policy review to ensure concordance with the National Therapeutic Guide and strengthen the country's resources for accurate and timely diagnosis and proper treatment of malaria cases.
The updates included:
National therapeutic guide.
Case management training manual.
Clinical outreach training and supportive supervision (OTSS) checklist.
Diagnostics training manual.
Diagnostics OTSS checklist.
Clinical and diagnostic job aids.
"Being a laboratory technician and accredited by the WHO in the microscopic diagnosis of malaria, I felt good and comfortable to be part of the team developing the manuals, as it is one of the competencies that a person accredited by the WHO must assume to improve the quality of parasitological diagnosis of malaria," said Maria Consuelo Oki, a BIMEP staff member in Equatorial Guinea. "Working with all the collaborators was excellent as I was able to learn many things, especially how to prepare scientific documents."
For 20 years, the BIMEP has actively worked in Equatorial Guinea with the objective of strengthening the health system by improving malaria diagnosis and treatment, as well as controlling transmission on Bioko Island. While strides have been made, challenges remain, such as the poor competency of health care providers and insufficient resources for diagnosis.
To counter these challenges, the BIMEP developed a comprehensive package of interventions in coordination with the MoHSW. This initiative aims to enhance health service delivery across Bioko Island by aligning with national case management guidelines and integrating with district-level health systems.
After meeting with health care providers and stakeholders for input in May 2022, the proposed tools were revised and approved by the MoHSW in July 2022. To conclude these updates, the BIMEP and the NMCP tested the tools during a pilot training and supervision of health care practitioners on Bioko Island in December 2022.
Equatorial Guinea is made up of its mainland and insular regions, including Bioko Island. Since 2004, the BIMEP has contributed to improvements in the health and well-being of the island's residents, including reducing the percentage of children (between ages 2 to 14) with malaria by 66% from 2004 to 2022; prevalence of severe anemia in children under 5 by 93% from 2004 to 2022; and mortality rate of children under 5 by 63% from 2004 to 2018.
The success of upgrading guidelines and training will further strengthen the country's health system and support existing efforts to control and eliminate malaria on Bioko Island. By ensuring nationwide adoption of these updated best practices, Equatorial Guinea can build a robust care infrastructure and continue working toward eliminating this deadly disease. MCD and the MoHSW call on all stakeholders to champion these life-saving protocols as a model for the country and beyond.