A New Chapter for MCD
Born in Augusta, Maine, U.S.A., Medical Care Development (MCD) has continued to provide strategic global and public health interventions and programs in Maine, the U.S., and around the world for more than 55 years. Our nonprofit organization was founded in 1966 to manage a federally funded Regional Medical Program and support the development of Maine's rural health system and public health infrastructure.
We grew over the decades.
As a result of our early successes, the U.S. Department of Health and Human Services asked MCD in the late '70s to provide technical assistance to the Kingdom of Saudi Arabia and its Red Crescent Society with the goal of improving all aspects of their prehospital emergency service system; thus, leading MCD to establish its International Division in 1977.
Internationally, MCD has taken on more than 100 global health projects in more than 40 low- and middle-income countries outside of the U.S. in the areas of malaria, HIV/AIDS, cervical cancer, health systems strengthening, reproductive, maternal, newborn, and child health, and more.
In the U.S., MCD has served as both an incubator and implementer for hundreds of programs and projects at the local, state, regional, and national levels, including initiatives focused on chronic disease prevention and management, medical and behavioral health workforce development, telehealth and technology planning and implementation, training and staffing the public health workforce, food security, substance use prevention, and much more.
We're announcing another historical moment for our organization: A new chapter in our story with a focus on the bigger picture.
For 45 years, our organization has split our identity based on where our work was happening. But we have so much in common. We know that health is a human right for everyone across the world, and our mission is to improve health and well-being for all. This mission unites us all in our work, and we celebrate both our Maine roots and our global reach.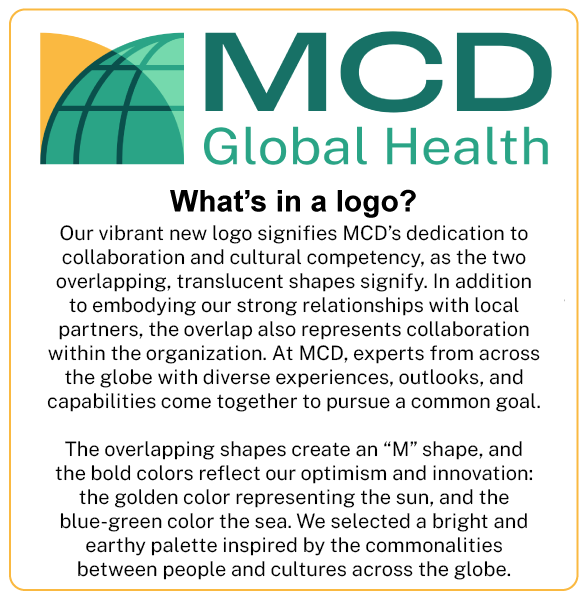 MCD is experiencing tremendous growth not only in our staff – with more than 500 team members working in 20 countries – and in our projects, grants, and awards, but also in where, how, and why we do what we do. Our staff are some of the best experts on global and public health topics, which is easily seen in the work that they and their teams do around the world.
For too long, our U.S. audiences recognized MCD for our work in chronic diseases, and our international audiences knew us for our expertise in infectious disease. Neither saw the full picture of who we are. It's time for a change.
We are excited to announce that we are changing our name to MCD Global Health to bridge our international and U.S. programs and to better represent our work around the world.
This new name and brand reframe our three divisions, MCD Corporate, MCD Public Health, and MCD International as the single organization we are, with decades of experience, global reach, broad capabilities, and deep expertise. Our team's rebranding efforts over the last two years have resulted in a new name, logo, and narrative with the goal of reflecting MCD's new direction.
A single, unified brand will help ensure that all audiences understand MCD's true depth and breadth. We look forward to taking on new, more cross-disciplinary projects that take full advantage of our unique skills and, ultimately, make a more significant impact on global health.
Additionally, a refreshed brand identity is an opportunity to invite new conversations. The MCD brand is bright and modern, a reflection of our organization's humanity, optimism, and innovation.
With this new transition, we hope that our new name and identity will be recognized across the globe and especially with the work that we do and lives that we impact. We are building upon our mission that health and well-being are human rights, and every person deserves to live a healthy life.