MCD's Project ECHO® Team Releases Free Toolkit on Mental Health Promotion in School Settings
MCD Global Health's Project ECHO® team recently launched a new toolkit, "Mental Health Promotion in the School Setting ECHO®," a free, six-session series available on Telehealth Classroom for those who work in school settings or child and adolescent mental health. The goal of the toolkit is to address significant behavioral health challenges within school settings and student populations.
This toolkit was created after Sherri Billings, a project manager at MCD, and the Maine Center for Disease Control and Prevention (CDC)'s Pediatric and Behavioral Health Partnership hosted a Project ECHO® that attracted 125 participants, mostly made up of those who work in schools or with children and adolescents. Because of the vast interest, the toolkit was later created and released through the Telehealth Classroom, a training portal developed by Northeast Telehealth Resource Center (NETRC), a program of MCD, to assist regional stakeholders in successfully leveraging and implementing telehealth.
To access the free course, make a free account on telehealthclassroom.com, then on the course dashboard, select 'Mental health Promotion in the School Setting ECHO: Enduring Material."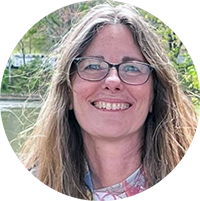 "The toolkit was designed to collect and allow convenient access to materials that came out of each ECHO® session," said Billings (image at right). "The six chapters correspond to the topics that were explored, such as building resiliency or minimizing student anxiety, and provide actionable lessons for anyone working with children. These are universal tier-1 interventions that are accessible for anyone to employ and help students. It is expected that 80% of students will not need more intensive interventions."
In addition, the toolkit shares summaries of anonymous cases prepared and shared by a participant at each session, so that the context of each challenging situation can be understood, and learners can benefit from the resources and recommendations that were collected. These resources and recommendations are valuable for connecting to local and community systems of support and applicable to other mental health challenges seen in school settings. Promoting mental health at schools allows for a whole child, whole team framework to develop, so children can thrive and those doing the work to promote mental health feel supported.
MCD works with the Maine CDC and behavioral health experts to integrate Project ECHO® methodologies into existing training provided through the Maine Pediatric and Behavioral Health Partnership. Designed to implement a standard of care change for health care providers in Maine to improve access to pediatric behavioral health care, this partnership offers support in strengthening local capacity in responding to behavioral health needs of Maine children and families.
The ECHO® methodology is a learning framework that applies across disciplines for sustainable and profound change. Offering a regular forum for complex case exploration and recommendations, the curriculum complements existing offerings of the partnership and supports referrals to their consultation services for primary care providers.
Learn more about MCD's Project ECHO®