Don't Miss MCD International's Presentations at ASTMH 2021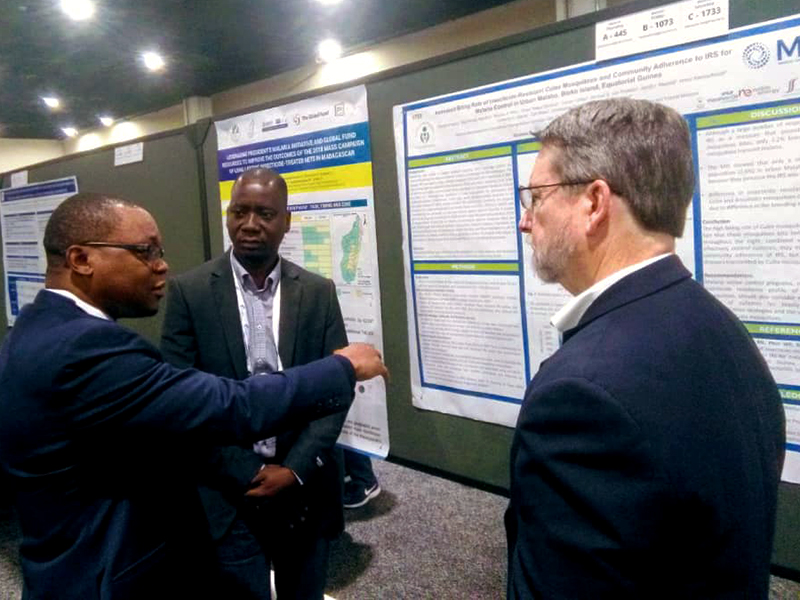 Poster presentation at 2019 ASTMH.
From November 17-21, the annual American Society of Tropical Medicine and Hygiene Annual Meeting (ASTMH) will take place virtually at a time when global health is more important than ever. The COVID-19 pandemic continues across the globe, the first malaria vaccine was approved, and the need to strengthen health systems is essential.
Medical Care Development's international division (MCDI) is at the forefront of responding to such issues by providing high-quality, cost-effective, accessible, and enduring interventions to improve the health and well-being of people around the world.
MCDI has led or coauthored numerous poster presentations for this year's ASTMH meeting on topics related to malaria. For example, we have 12 posters related to our Bioko Island Malaria Elimination Project (BIMEP), an award-winning, public-private partnership launched in 2004 with the goal of eliminating malaria from Bioko Island in Equatorial Guinea.
Below you'll find a schedule of MCDI's activities at ASTMH this year. Please join us in supporting our colleagues as they share the successes, challenges, and lessons learned of their work across the globe.
Bioko Island Malaria Elimination Project (BIMEP):
11 a.m., Thursday, Nov. 18:
Noon, Friday, Nov. 19:
2:45 p.m., Friday, Nov. 19:
11 a.m., Saturday, Nov. 20:
PMI Impact Malaria:
Noon, Friday, Nov. 19:
11 a.m., Saturday, Nov. 20:
PMI StopPalu+:
11 a.m., Saturday, Nov. 20:
International
2021
ASTMH
Malaria
StopPalu
PMI Impact Malaria
BIMEP
communciable diseases
strengthening health systems