MCDI Launches Cervical Cancer Corner in Equatorial Guinea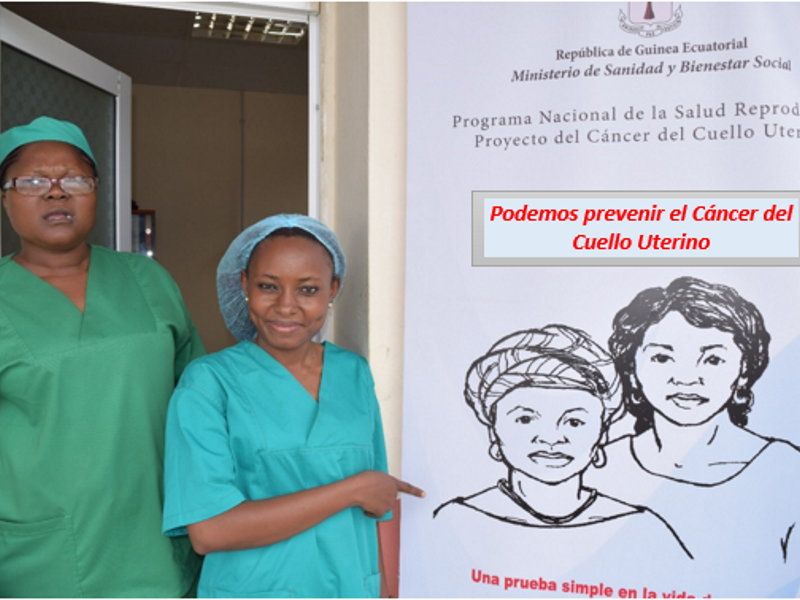 Inmaculada Anutulu (Nursing Assistant) and Dr. Ana María Obono (Gynecologist), staff members of Malabo Hospital CCST Corner.
On April 21, 2017 the Cervical Cancer Screening and Treatment (CCST) Corner was launched at Malabo Regional Hospital on Bioko Island, Equatorial Guinea. An official ceremony was held with the participation of national and international dignitaries and the MCDI Equatorial Guinea Cervical Cancer Screening and Treatment Project's funders, Noble Energy. The Secretary of State for the Ministry of Health and Social Welfare, Dr. Daniel Ángel Sima, officially inaugurated the consulting room. This area of the hospital will serve as a one-stop screening and treatment center for the women of Malabo in order to help prevent and fight cervical cancer.
As of May 2, 2017, 106 women have been tested at this new consulting corner using the Visual Inspection with Acetic Acid (VIA) method. Among them, 6 women had precancerous lesions and were treated using a cold coagulator device, 4 were sent for cytology and 3 women who were suspected to have advanced cancer were referred for further treatment.