Join MCD Global Health at the 2023 APHA Conference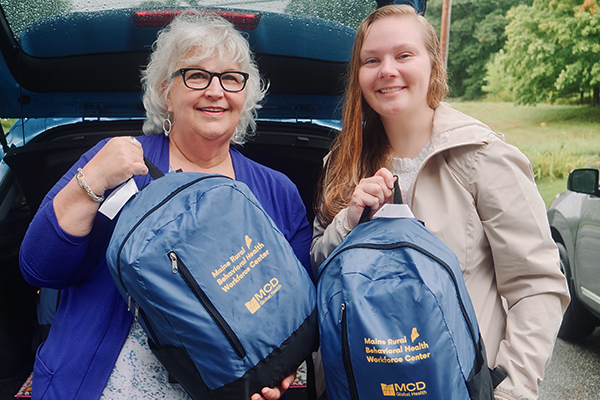 MCD's Valerie Jackson (left), senior program manager, and Marissa Romano (right), senior project coordinator, delivered backpacks filled with resources to participants who completed the first workshop series to support them along their career path in behavioral health, as part of the Rural Behavioral Workforce Center.
From November 12–15, the annual American Public Health Association (APHA) annual conference will take place in Atlanta, Georgia, with the theme, "Creating the Healthiest Nation: Overcoming Social and Ethical Challenges."
MCD Global Health (MCD) will exhibit at the conference at booth #615 and have two presentations on Project ECHO® and workforce development.
Below is a schedule of MCD's activities at APHA's conference this year. Please join us in supporting our colleagues as they share the successes, challenges, and lessons learned from their work across the United States.
3225.0 - Promoting mental health in Maine schools with Project ECHO® (View Abstract)
4194.4 - Maine recovery jobs: The ethics and social challenges associated with rural emergency workforce interventions (View Abstract)