Join MCD Global Health at APHA's Conference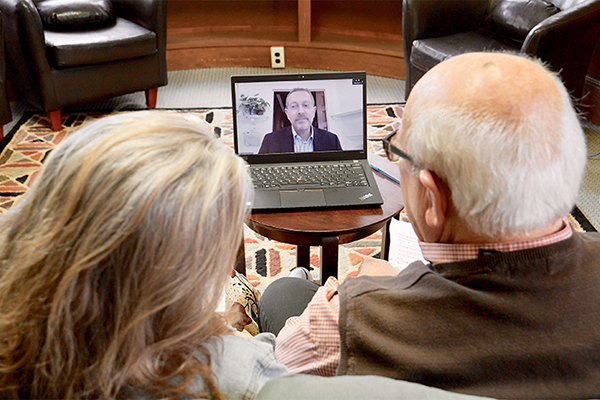 Couple using telehealth technology to meet with health care provider.
From November 6–9, the annual American Public Health Association (APHA) annual conference will take place in Boston, Massachusetts, bringing attendees back together in person for the first time since the COVID-19 pandemic began.
MCD Global Health (MCD) will exhibit at the conference at Booth #233, have a Learning Institute session as well as numerous presentations on numerous public health topics including telehealth and technology, COVID-19 prevention, early care and education, community health workers, and substance use disorder.
Below, you'll find a schedule of MCD's activities at APHA's conference this year. Please join us in supporting our colleagues as they share the successes, challenges, and lessons learned from their work across the United States.
9 a.m.–12:30 p.m. (ET) Saturday, Nov. 5: Learning Institute on "Leveraging Telehealth to Promote Access and Innovation in Public Health Interventions – A Design Thinking Approach" co-presented by the Northeast Telehealth Resource Center team and colleagues ($225 fee).
1–2 p.m. (ET) Sunday, Nov. 6: Poster Presentation by Larissa Hannan, project coordinator, at Board 7, Opioids Poster Session #2 on Harm Reduction, "Narcan: Who can? We can." (2012)
10:30 a.m.–Noon (ET) Monday, Nov. 7: Presentation by Elizabeth Foley, co-director of MCD U.S. Programs, and Kim Jay, Sinai Urban Health, "Community Health Worker Core Skills Training, the Differences that Connect Us." (3063)
2:30–4 p.m. (ET) Monday Nov. 7: Presentation by Catherine Sanders, senior program manager, co-presenting at Table 3 of Applied Public Health Statistics Roundtable, "Quarantine exempt: Impacts of Pooled Testing in Maine's K-12 Test-to-Stay Approach to COVID-19 Prevention." (3154)
6–7:30 p.m. Monday, Nov. 7: Meet-and-greet social hour: Join MCD for an informal meet-and-greet social hour in Room 154 in the Boston Convention & Exhibition Center.
10:30 a.m.–noon Tuesday, Nov. 8: Presentation by Dawn Gordon and Marissa White, "Digging Deeper, Growing Farm to Early Care and Education Participation in Maine." (4127)