Healthy Lincoln County Receives Grant to Strengthen Partnerships with Local Farms, Farmers Markets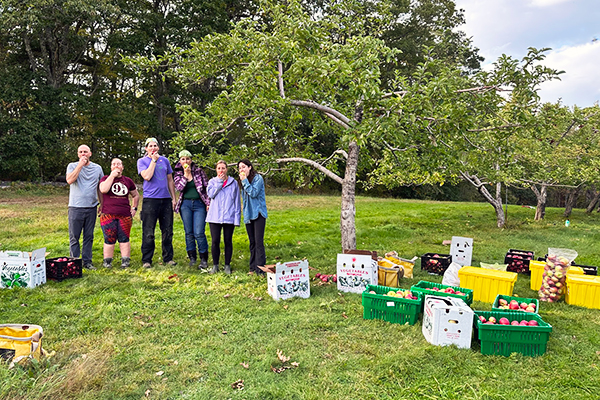 Group of gleaning volunteers and HLC Food Access Coordinator Maddie (far right) after a successful apple harvest at Biscay Orchards in Damariscotta, Maine.
Healthy Lincoln County (HLC), a program of MCD Global Health located in Lincoln County, Maine, was recently awarded a $500,000 grant from the U.S. Department of Agriculture's Farmers Market Promotion Program.
This grant will allow the HLC team to strengthen partnerships with local farms and farmers markets across Lincoln County by providing technical assistance and support when utilizing Supplemental Nutrition Assistance Program (SNAP) and Electronic Benefits Transfer (EBT) services at their farms and, simultaneously, assist shoppers with SNAP, Women, Infants, and Children (WIC), and Maine Harvest Bucks in finding affordable and locally grown produce.
"I am thrilled to receive this opportunity from the USDA to help expand access to local produce, in partnership with our local farmers markets and farms across the county," said HLC Director Larissa Hannan. "The Farmers Market Promotion Program is the perfect addition to our food security services, which have been steadily growing over the past five years. I look forward to working with our incredible farm partners, farmers markets, and local and state partners to help create easier access to fresh, local, delicious produce."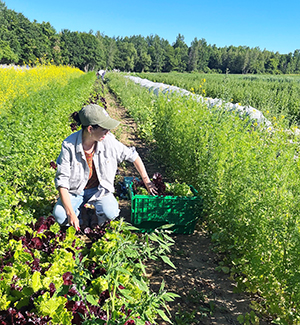 HLC Director Larissa Hannan gleaning produce at Goranson Farm in Dresden, Maine.
This will expand HLC's current food security services that include:
Lincoln County's SNAP Education: Free education services that promote healthy eating and fresh food to all;
USDA Summer Food Service Program: Free breakfast and lunch provided to students throughout the summer months through camps, summer school programming, and mobile outreach to rural locations throughout Lincoln County;
Lincoln County Gleaners: An effort that promotes food security and reduces food waste within Lincoln County by collecting unused produce at local farms and farmstands and redistributes throughout the county at no cost to the recipient; and
Food Connection: Services that provide emergency food to Lincoln County residents on an as-needed basis, which were formed during the COVID-19 pandemic.