First-of-its-Kind, Gamified e-Learning Platform Teaches Children Importance of Dental Health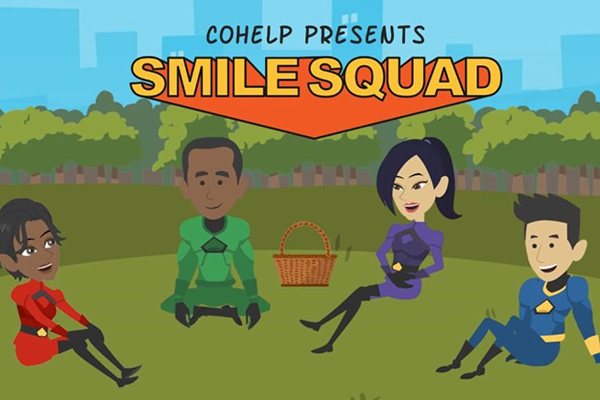 The SmileSquad is the team of players that lead users throughout the COHELP game.
MCD Global Health recently launched the new Children's Oral Health e-Learning Platform (COHELP), an interactive way for children to learn about oral health.
Developed by MCD's e-Learning Program and Oral Health teams for students of all ages across the U.S., this novel gamification tool is being used to help raise oral health literacy. Using interactive gaming tools, COHELP teaches school-aged children about the basics of oral health in an easy-to-understand style.
There are two modules within the platform: one designed for grades PK-5 and the other for grades 6-8. Through gaming and self-assessments, students will increase their oral health literacy and learn to make better health-appropriate choices while having fun.
"Our goal in creating COHELP is to promote child and adolescent oral health with a low-time commitment of school staff and parents," said Sherry Laliberte (picture at left), program manager and registered dental hygienist for the Maine Center of Disease Control and Prevention's School Oral Health Program, who conducts oral health screenings in public schools across Maine. "I began COHELP because of the lack of education for and access to oral health care in rural Maine public schools, so I wanted to raise awareness in a fun and interactive way."
Raising awareness about children's oral health is vital as tooth decay is the most common chronic disease among children. Additionally, poor oral health can cause pain, infections, difficulty chewing or speaking, lower self-esteem, decreased school attendance and performance, and an increase in health care costs.
Parents can use this free and open-use platform to start conversations around oral health and best practices with their children, and educators can use COHELP as a tool for free time, indoor recess, or computer dexterity practice.
Learn more about MCD Global Health's oral health initiatives
2023
US
Maine
Oral Health
eLearning