Celebrating National Children's Dental Health Month with Annual Poster Contest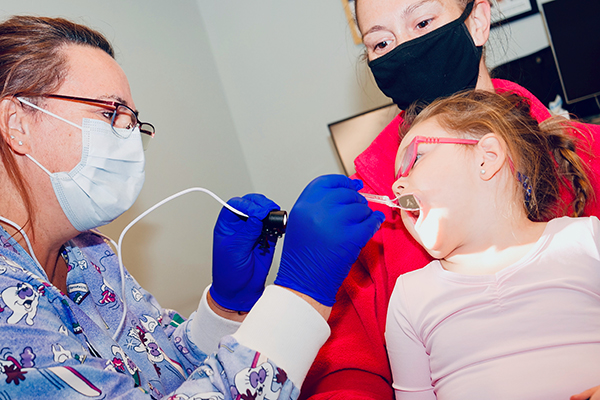 Sherry Laliberte, program manager and registered dental hygienist for the Maine CDC's School Oral Health Program, conducts an oral-health screening of a public school student in Maine.
MCD Global Health works with the Maine Center for Disease Control and Prevention (CDC) to improve the oral health of children across the State of Maine.
Twice a year, MCD's team of registered dental hygienists, along with volunteer dentists, perform oral screenings and fluoride varnish treatments to students in Maine public schools. During the 2021-2022 school year, our team visited a total of 196 schools throughout Maine for dental screenings; saw nearly 17,000 students for dental screenings; and referred 18.7% of those students seen for dental care.
"Tooth decay remains the most prominent childhood disease in America. Oral health issues can go undetected without regular checkups," said Sherry Laliberte, program manager and registered dental hygienist for the Maine CDC's School Oral Health Program (SOHP), who conducts oral-health screenings in public schools across Maine. "Through the SOHP, we can identify those children who are in need of dental care and help in getting them into the offices of qualified dental providers."
In addition to visiting schools, MCD brings further awareness to this important public health issue through the Maine CDC's annual SOHP's poster contest.
Open to public school students from preschool through sixth grade in Maine during the month of February, which coincides with National Children's Dental Health Month, students are challenged to create an illustrated poster on what oral health means to them. Public voting takes place in four separate categories based on grade in the first week of March, and winners from each category receive a prize that includes an electronic toothbrush, floss, reading material, toothpaste, and more (view last year's winners).
Laliberte coordinates the annual poster contest, sending information to Maine public schools about the poster contest each year as well as oral health resources and teaching materials that anyone can use to teach children about the importance of their oral health.
The deadline to submit a poster for the contest is noon Tuesday, February 28.
The submitted posters for the contest will be available for public voting for three days after the posters are gathered, and winners will be notified by March 6. To learn more about the poster contest or submit a poster, contact Sherry Laliberte at slaliberte@mcd.org.
Read the details and rules for the contest (PDF)