Annual Indoor Residual Spraying Activity Concludes on Bioko Island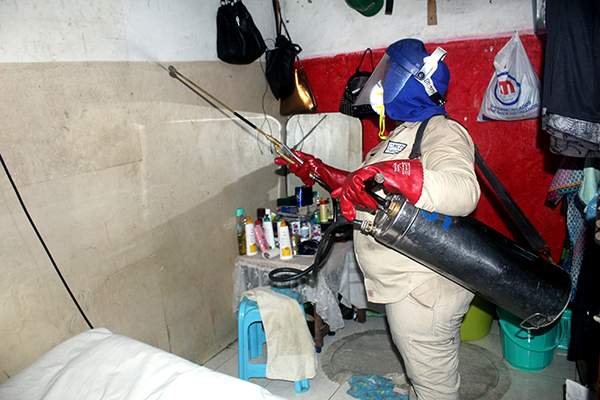 June 30 marked the end of the annual indoor residual spraying activity on Bioko Island, Equatorial Guinea, one of the key interventions for eliminating malaria. For four consecutive months, spraying teams composed of 156 Equatoguineans have sprayed 41,203 houses on Bioko Island, protecting more than 150,000 residents against malaria.
Spraying took place across the whole island at a 100x100 meter-sector level, a strategy we have shown to be more effective than using larger coverage units. Optimal coverage was achieved in the great majority of sprayed sectors with minimal waste of limited resources. The team interpreted data in real-time to make decisions and be flexible in responding to changing situations in the field, contributing to the overall success of the spraying round, which has been by far the most efficient and successful in the history of malaria control on Bioko.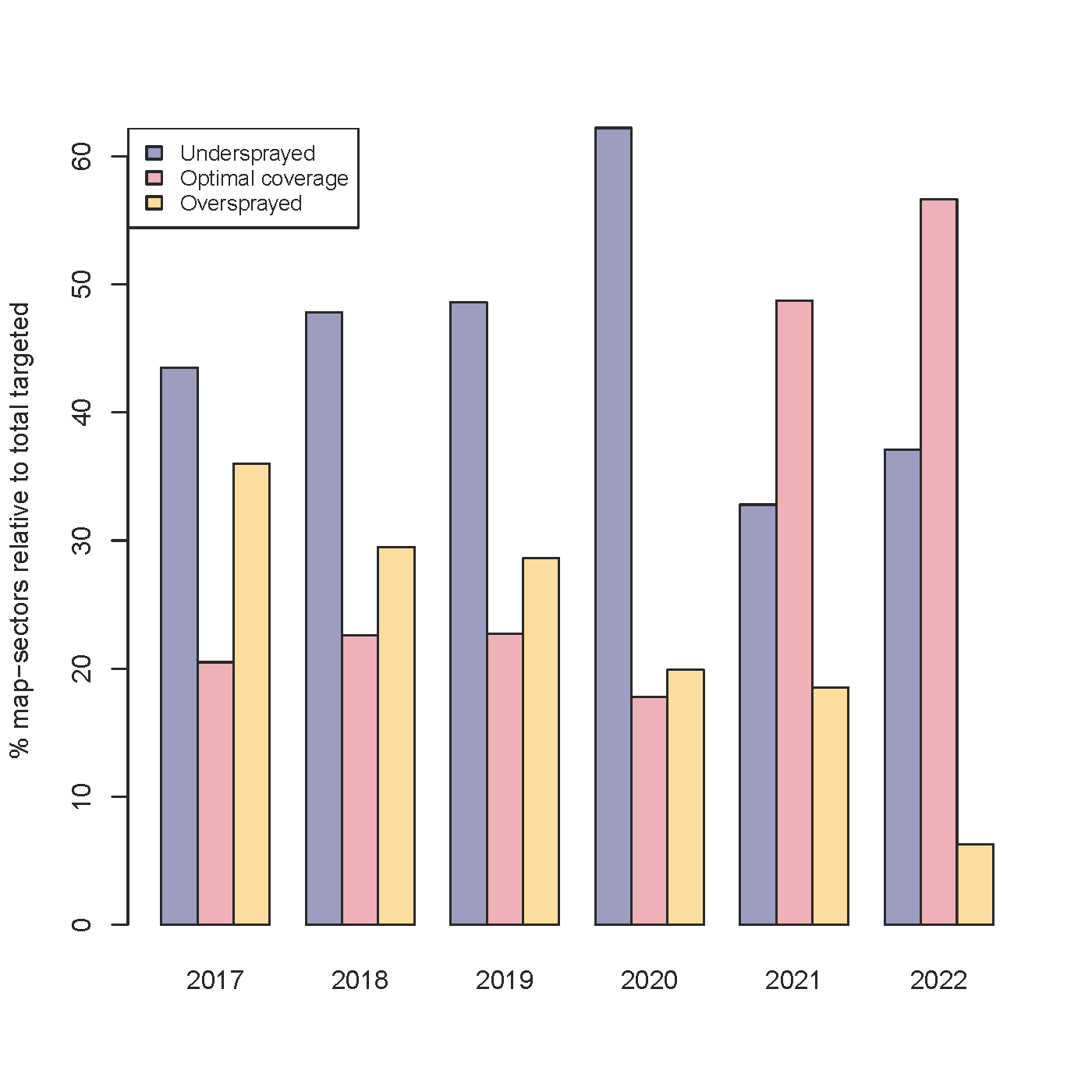 Spraying is one of the most effective strategies to mitigate the spread of malaria on the island. However, it's a costly intervention, hence the need to improve efficiency and optimize resources. In addition, spraying teams encouraged people to sleep under long-lasting insecticide-treated mosquito nets, and since outdoor early biting seems to be an increasing problem in certain areas, they recommended avoiding to go outside during peak mosquito biting hours from dusk to dawn. To counter outdoor and early biting, the project is considering expanding the suite of interventions, such as intensified larval source management and more.
The National Malaria Control Program "thanks all community leaders and the general population who have collaborated and actively participated for the health and welfare of the population to drastically reduce the transmission of malaria in Bioko Island."
Learn more about our Bioko Island Malaria Elimination Project
En Español:
Concluye la actividad anual de fumigación de interiores en la isla de Bioko
El 30 de junio finalizó la actividad anual de fumigación de interiores con efecto residual en la isla de Bioko (Guinea Ecuatorial), una de las intervenciones clave para eliminar el paludismo. Durante cuatro meses consecutivos, equipos de fumigación compuestos por 156 ecuatoguineanos han rociado 41.203 casas en la isla de Bioko, protegiendo a más de 150.000 residentes contra la malaria.
La fumigación se llevó a cabo en toda la isla a un nivel de 100x100 metros por sector, una estrategia que hemos demostrado que es más eficaz que el uso de unidades de cobertura más grandes. Se consiguió una cobertura óptima en la gran mayoría de los sectores fumigados, con un desperdicio mínimo de recursos limitados. El equipo interpretó los datos en tiempo real para tomar decisiones y ser flexible a la hora de responder a situaciones cambiantes sobre el terreno, lo que contribuyó al éxito general de la ronda de fumigación, que ha sido, con mucho, la más eficiente y exitosa en la historia del control del paludismo en Bioko.
La fumigación es una de las estrategias más eficaces para mitigar la propagación de la malaria en la isla. Sin embargo, es una intervención costosa, de ahí la necesidad de mejorar la eficiencia y optimizar los recursos. Además, los equipos de fumigación animaron a la gente a dormir bajo mosquiteras tratadas con insecticida de larga duración, y dado que las picaduras tempranas en el exterior parecen ser un problema creciente en ciertas zonas, recomendaron evitar salir al exterior durante las horas de mayor afluencia de mosquitos, desde el atardecer hasta el amanecer. Para contrarrestar las picaduras tempranas y al aire libre, el proyecto está estudiando la posibilidad de ampliar el conjunto de intervenciones, como la intensificación de la gestión de las fuentes de larvas, entre otras.
El Programa Nacional de Control de la Malaria "agradece a todos los líderes comunitarios y a la población en general que han colaborado y participado activamente por la salud y el bienestar de la población para reducir drásticamente la transmisión de la malaria en la isla de Bioko."
Más información sobre nuestro proyecto de eliminación de la malaria en la isla de Bioko
2022
international
Equatorial Guinea
BIMEP
malaria