Funded by Nemours HKHF Technical Assistance Program, MCD Global Health's Healthy Kids Healthy Future (HKHF) team is committed to supporting partners and early care and education (ECE) providers to create healthier environments for children.
HKHF Maine is working on policy, systems, and environmental changes that support increased access to healthier foods and opportunities to be physically active within ECE settings.
The project has provided trainings, resources, and opportunities that support ECE providers in changing the environments to make the healthy choice the easy choice, including:
Expanding access to Cooking Matters for the Child Care Professional.
Providing hands-on resources and training for physical activity and behavior management.
Supporting access to Go NAPSACC, an evidence-based self-assessment tool that ECE providers can use for ongoing quality improvement aligning with Maine Quality Rating Improvement System.
Formally establishing Farm to Early Care and Education in Maine — convening stakeholders, developing a strategic roadmap, and supporting facility-level interventions. Farm to ECE is an evidence-based approach designed to increase access to healthy, local foods in ECE settings.
What Our Participants Say: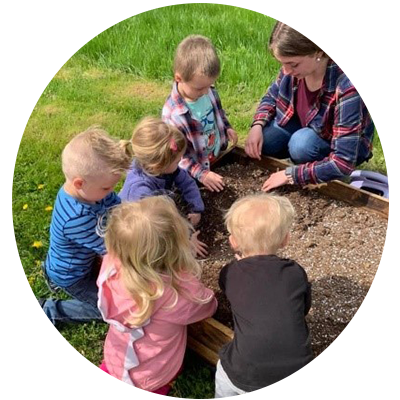 "We were able to use the steps in the Go NAPSACC action plan to implement a program that included raised garden beds for our children! I love that we were able to teach kids about gardening; it's a life lesson that keeps on giving forever and ever!"
—Julie York, Child Care Provider
Nurturing Roots Childcare Center